Social Work Clinician (MSW, LICSW, LCSW, LMHC, LMFT)
Social Work Clinician (MSW, LICSW, LCSW, LMHC, LMFT)
Company Overview:
Therapeutic Child Care Services (TCCS) is an inclusion program for children with behavioral, social emotional, or developmental delays. The therapeutic program gives children the opportunity to attend, learn, and play in a childcare setting. Children participate in activities and opportunities throughout the day with their typically developing peers. We recognize that every child is an individual, and make modifications and accommodations based on each child's needs. Our goal is to give ALL children the opportunity to succeed. TCCS is a Kids Connect Program, regulated by the Executive Office of Health and Human Services in Rhode Island.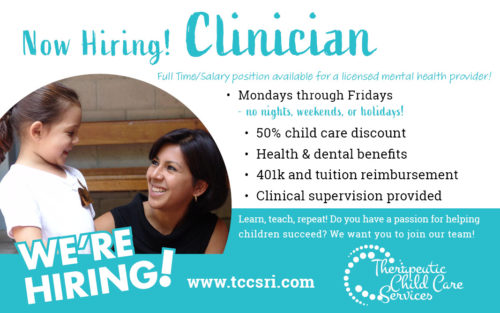 Learn, teach, repeat! Do you have a passion for helping children succeed? Enjoy supporting child care teachers to best meet the needs of children? If so, we want you to join our team!
Position Details:
Therapeutic Child Care Services believes in teamwork to meet the individual needs of each child. The Therapeutic team consists of a Special Needs Program Director, a Clinical Supervisor, Clinicians, a team of Therapeutic Integration Specialists, and all the direct service staff members who assist children to reach their personal best each day.
Therapeutic Child Care Services is currently seeking a Clinician to create treatment plans and support inclusion classrooms across Rhode Island.
Visit us here: https://tccsri.com/ Apply through Dr. day Care here: https://www.drdaycare.com/careers
Hours:
Full time/salary

Monday - Friday

Corporate Office Smithfield, RI - Travel/Visit as needed assigned site locations.
Benefits Include:
Paid Time Off

12 Paid Holidays

401k

College Tuition Reimbursement

Child Care Discounts

Medical (Healthcare Benefits), Dental, Vision

Flexible Spending Account

Training/Professional Development opportunities

Travel Reimbursement
When you join our team as a Clinician you will:
Create modifications and accommodations based on each child's needs

Set up and complete meetings with families

Complete assessments for each child

Write i

ndividualized

Therapeutic Integration Plans (TIP) for each child

Educate direct service staff on the modifications and interventions that will be used in the classroom

Model techniques, offer strategies, and evaluate progress

And more!
Minimum Requirements:
Masters of Social Work (under Clinical Supervision) required to work with therapeutic preschool and school age child care programs in Rhode Island

Licensure: LICSW, LCSW, LMHC, LMFT

Experience working with children preferred

Strong communication skills

Positive team player
Physical Requirements:
Ability to be

engaged in physical exercise with children such as walking, running, crawling, bending, twisting, etc.

Must have visual and

hearing

acuity

Must be able to lift

up

to 40 pounds
Other Qualifications:
Minimum 21

years of age

Must be able to read, write, speak and understand English fluently

Must pass national criminal background/fingerprints check

Must pass Department of Children, Youth and Families (DCYF) Clearance Request (CPS)
Additional Info
Job Type : Full-Time
Experience Level : ""
Job Function : ""